Teach Different With Essential Questions – 3 Graduate Credits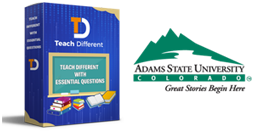 ** Message From Steve Fouts, Teach Different Founder**
COURSE DESCRIPTION
Become the teacher your students remember. This course introduces a 3-STEP conversation technique that combines storytelling, critical thinking and thematic questioning to help you generate social-emotional learning conversations.  You will leave this course with a go-to method for engaging students in face-to-face, blended and virtual classrooms.  All course takers receive one-year access to the Teach Different Society.
ABOUT THE COURSE
This course is approved for 3 graduate credits through Adams State University.
Builds Teacher Capacity In Making Essential Questions And Sparking Unforgettable Discussions
Useful For All Student Ages And Teaching Disciplines
Covers ELA Common Core Anchor Standards For Speaking And Listening:  CCSS.ELA-LITERACY.CCRA.SL.1,2,3
Aligned To College, Career And Civic Life (C3) Framework's Dimensions
Taught By Free-Thinking Veteran Educators
Self Paced: ​​Start Within 60 Days Of Sign Up And Take Up To 12 Weeks To Finish
Completely Online, No Textbooks
COURSE OVERVIEW
Course Introduction
Zoom Meetings
Course milestones
Syllabus
---
Course Features
Lectures

7

Quizzes

3

Skill level

All levels

Language

English

Students

32

Assessments

Yes
Milestone ONE: The 3-Step Process

For this milestone you will be introduced to the 3-Step process-- a student engagement technique that uses SEL principles to build essential questions and promote equity in the classroom.

Milestone TWO: Making Think Alouds

Now you are going to make your first 3-Step Think Alouds (TA). Consider a TA like a conversation starter for a lesson. Each TA has a famous quotation, a social-emotional learning theme, a claim, counterclaim and provocative essential question.

Milestone THREE: Lesson One

For this milestone you will complete your first lesson which you started in Milestone Two. After revising it based on feedback, you will submit it for evaluation.

Milestone FOUR: Lesson Two

For this milestone you will create another lesson from scratch.

Milestone FIVE: Lesson Three

This week you will repeat the process to design your third lesson.

Milestone SIX: Final Reflections

In the final week of this course you are going to reflect on your experiences.