Teach Different with Diogenes: Happiness

"He has the most who is content with the least."
Diogenes
Social Emotional learning
Money, influence, friends and good grades– students think that more is better. The whole idea of cutting back on desire isn't very attractive. Yet, we can't have it all and so now and throughout life, students must make smart choices on what they want and how much.
Step One:  Claim
Here Ancient Greek philosopher Diogenes suggests that the secret to happiness and fulfillment in life is to be content with having little. He could be referring to material things, status and reputation or even human relationships.
Step Two:  Counterclaim
But being content with what you have doesn't inspire you to move forward and get more. You stagnate and no longer develop when you decide that you have enough. This is hardly a life plan for happiness.
Step Three: Essential Question
How do you know when you have enough to be happy?
Curriculum

I'm thinking about the novel The Great Gatsby by F. Scott Fitzgerald and the character of Jay Gatsby. He was never content and always wanted more from life. In fact, he spent his entire life trying to court Daisy and would stop at nothing until he got her. This led him to ruin.
Connection

I could stage this conversation just as we were beginning to read the novel. I could give out the essential question to students and tell them to keep a journal in which they would answer the question in light of what they learn about Gatsby throughout the novel.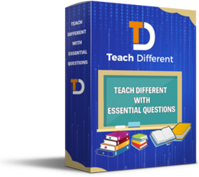 Choose Your Own Quotes.
Design Your Own Conversations.
Connect Your Own Curriculum.