Teach Different with Dr. Seuss: Risk-Taking

"So be sure when you step, step with care and great tact.  And remember that life is a great balancing act."
Dr. Seuss
Social Emotional learning
If there is one thing students struggle with, it's impulse control. Students are at different levels of emotional maturity. Some are extremely cautious and tactful in the way that they deal with peers and adults. Others are risk takers who want to "show off" their fearlessness and gather followers who want to be like them.
Step One:  Claim
Here Dr. Seuss offers some words of caution. When you make decisions and take action in life, make sure you take into account the appropriateness of your "steps." Life is a balancing act between risk taking and caution.
Step Two:  Counterclaim
You can imagine how some students are going to react to a stop sign in the middle of the road. They are looking for a green light and sometimes taking risks is exactly what you need to do to make it to the next level.
Step Three: Essential Question
How do we know when we should take risks?
Curriculum

I think about the great battles in US history which I teach, especially the Normandy invasion.  In that battle, there was a real need to take a great risk. Proceeding with caution wouldn't have been the right strategy.
Connection

We could have this conversation just before introducing the famous battle. After teaching the battle, I would have the students answer this essential question on a sheet of paper and organize a short reflective discussion at the end of class.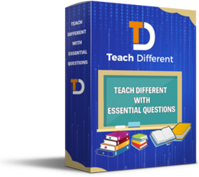 Choose Your Own Quotes.
Design Your Own Conversations.
Connect Your Own Curriculum.